Natarang Pratishthan

---
Natarang Pratishthan, established in 1989, is a private trust that has one of the most exhaustive collections of material pertaining to Indian theatre including books, journals, play scripts, photographs, seminar papers, brochures, posters, press clippings, audio and video material, and other rare data.
Natarang Pratishthan is not just a set up that deals with the past. It constantly forges a link with the present by fresh and imaginative initiatives - that both set up significant debate and help in the promotion of contemporary theatre.
History in the Archives

---
The rich repository at Natarang Pratishthan consists of a well-documented library with many rare works related to theatre activities generally from all over India, but more specifically concerned with the performing arts in north India. While the archives are constantly being enriched, at any given moment the student or visitor can find at least following:
5,000 books
on various subjects that include theatre, drama criticism, culture, music, fine arts, dance, folk art, folklore, mythology, philosophy as well as play texts in different languages
3,500 journals
most of which have been bound for easy reference, many of them complete files, or rare first issues, beginning 1931, and including the writings or editings of several 'greats' of Indian theatre
22,000 photographs
of actors, directors, traditional and contemporary stage performances and cultural festivals. The earliest photographs in the archives date from the 1920s
2,50,000 clippings
pertaining to individuals, theatre groups, or institutions, often the most exhaustive documentation on them inclusive of review of performances, interviews, articles etc.
850 play scripts
including original works of Hindi playwrights
translations of Indian and foreign plays, as well as unpublished works
500 Audio and 1000 Video recodings
from theatre performances, workshops, interviews, documenteries, dialogues as well as those recorded especially for reference
6,500 brochures of plays
from the 1940s onwards
1,000 posters
from different theatre productions, providing a visual history of stage performances in India
7,000 invitations
an exciting reference of the history of Indian theatre literature and other art activities
250 rare seminar materials
including reports on the first National Theatre Festival, papers of national seminars on Film (1955), Drama (1956), Music (1957) and Dance (1958), as well as discussions from the Conference of Asian Writers (1956), a Shakespeare Seminar (1964), Indian Theatre Fact Book (1958-62) and other important reports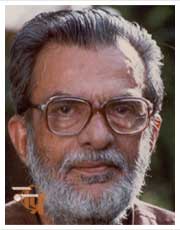 B. V. KARANTH
(1928 - 2002)
---
Birth: 19th September, 1928

Place: Babukodi, Karnataka (India)

Brief Career Profile:

An eminent theatre and film director, music director and educationist, who headed the following institutions:
Director, National School of Drama, India (1977-81)
Founder Director, Bharat Bhavan Rangmandal, Bhopal, Madhya Pradesh, India (1982-86)
Founder Director, Karnatak Rangayan, Maysore (1989-95)