Books and Journals

---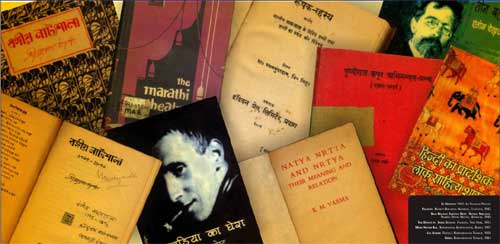 Systematically arranged and methodically catalogued, the Pratishthan library has rare books and journals in its collection, and efforts are constantly underway to add to the wealth of material available. The researcher and scholar are unlikely to be disappointed by the span of 5,000 books and 3,500 journals that are indexed for easy reference. The journals, mostly complete bound sets, date from 1931 onwards. The books include subjects such as plays, dramatic criticism, culture, music, fine art, dance, folk art, films, folklore, mythology, philosophy and other theatre aspects in a number of languages.
Photographic Records

---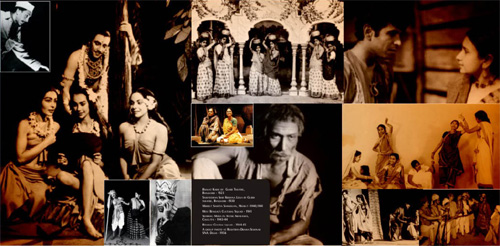 There is little by way of photographic evidence of Indian theatre in the early twentieth century, which makes the record of images at the Pratishthan all the more valuable. Its over 17,000 photographs pertain to actors, directors, traditional and contemporary stage performances and cultural festivals. The earliest pictures date from the 1920s (of performances by the Gubbi theatre). While some pictures may be the only existing originals of performances by regional theatre squads (IPTA), there are also some of performances of Indian plays involving foreign actors.
Click here to view photogallery.
Press Clippings and Publicity Material

---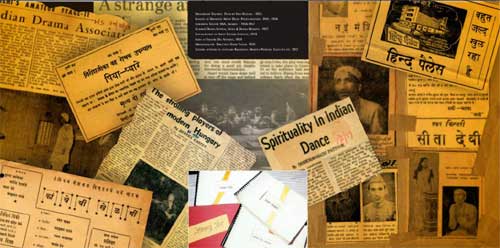 When a production is being mounted, a lot of publicity material is generated – and lost. Yet, this can prove an invaluable guide for later scholars on the preparation, material for media consumption, cast and director, interviews and performance reviews. At the Pratishthan, even as we continue to add to our archives, there are well over 1,50,000 old clippings especially catalogued for purposes of study. This includes the delightful advertisements for the Parsi theatre that were so popular in the mid-twentieth century, as well as specialised and mainstream write-ups on theatre, music, dance, literature and culture pertaining to theatre professionals, groups and institutions.
Play Scripts and Production Scripts

---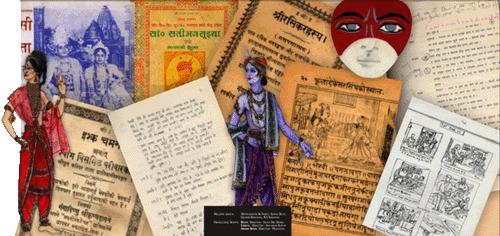 While the rarest works include unpublished, hand-written or drafts of scripts, the Pratishthan library houses some 775 scripts that include original works of Hindi playwrights, as well as translations of Hindi or foreign plays. Remarkably, some of them carry notifications on the margins and between the lines, consisting of writings by the script writers, translators, or directors, making them extremely valuable for the scholar. In addition, several scripts are accompanied by drawings and sketches of characters, their costumes, and the stage, adding immensely to their period value.
Audio and Video Material

---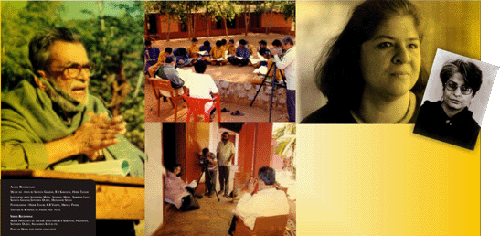 The collection has some rare recordings of interviews, conversation, lecture, performances and events exclusive to the Pratishthan. Among the achievements of Natarang Pratishthan, and part of its original activities, has been the recording of the work-processes of well-known directors, actors and others related with theatre performances. This rich reference resource has as many as 470 audio and 970 video discs, and additions have more recently included the work-processes of Asian women directors and actors. It is useful not only for a deeper understanding of how the greats of theatre approached their work, but also in evaluating their responses to subjects, materials and aspects of tackling production problems as well as human issues.
Brochures

---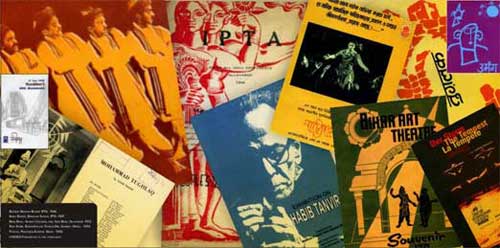 In many ways, the brochure forms the essence of a production. It includes information about a play (and its historical antecedents), the director's take on the script and any amendments or changes made to it, the complete cast of characters and, sometimes, even excerpts of favourable reviews. This, therefore, is the perfect record of any public performance. What's more, a single play by the same group may record changes in cast or deviations in script over a period of time, allowing for a commentary on the socio-political milieu at any given time, and completing a list of actors who have played a part in the play. The Pratishthan's archives can boast of a record 6,500 such brochures from the 1940s onwards.
Posters and Invitations

---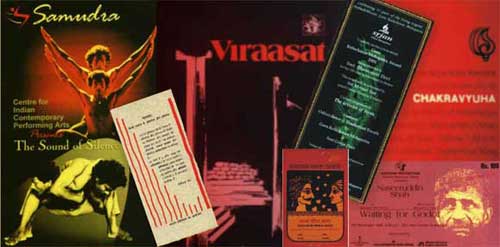 The public's first interface with any performance is through the publicity material specially designed for it, such as posters and invitation cards. Designers are asked to create a message through these publicity materials that distil the very essence of a play. The Pratishthan archives house 1,000 such posters and 7,000 invitations, providing both exciting reference to the history of Indian theatre activities as well as a visual history of stage performances in India. In addition, ticket booklets and stubs complete the publicity paraphernalia associated with plays.
Seminar Papers

---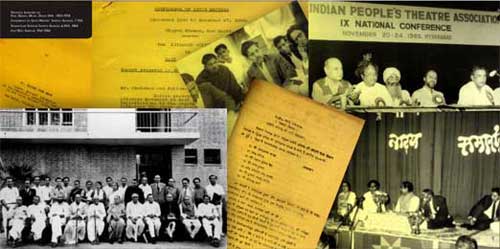 Intellectual debate is one of the prime objectives of Natarang Pratishthan, and an ongoing process that allows theatre professionals to engage in it is the recourse of seminars on select, opportune themes and subjects. This allows critics, actors, directors, playwrights and opinion makers to air their views and generate new and exciting ideas. The Pratishthan is lucky to have in its archives 250 rare seminar materials and reports. Some of the more important of these pertain to the 1956 Conference of Asian Writers, a 1964 Shakespeare Seminar, the 1958-62 Indian Theatre Fact Book, and other important reports on national symposia.