Theatre Festivals and Plays

---
Poorva
A fortnight long festival and conference of Asian Women Theatre Directors, with twenty plays from India and other Asian countries and four day conference on various issues related to women theatre directors. [more...]
Presentation of Samuel Beckett's famous plays Waiting for Godot by Motley, a theatre group from Bombay featuring noted theatre and film actor Naseeruddin Shah and director Benjamin Gilani in the leading roles, as a fund raising drive.
Rang Nirantar
Launching of Natarang Weekend Theatre with the purpose of bringing regular quality theatre within the reach of South Delhi audiences. Under this unique programme top ranking theatre groups of Delhi presented their plays every weekend from January to May '99 and its second phase from October '99 to February 2000.
Rang Samvaad [see...]. Presentation of Mahesh Dattani's Play final solution by Asmita as part of Rang Samvaad.
Paraspar
A three day event with seminar on Actor and Acting in Hindi theatre centered on two eminent actors - Uttara Baokar and Manohar Singh along with two full length performance of UMRAO and HIMMATMAI in their leading roles. Theatre persons and scholars from all over the country participated in the seminar.
Workshops, Symposia, Lectures

---
A symposium on Contemporary Indian Theatre and Arts: the Dialectics of Interaction with eminent artists from various fields of art and culture - Sonal Mansingh (dance), Bhaskar Chandravarkar (Music), B. V. Karanth (theatre), Namwar Singh and Ashok Vajpeyi (literature).
Panel discussion on Text, Reading and performances by Dr. Namwar Singh, Dr. Govind Deshpande and Dr. Suresh Awasthi.
Lectures by Sanskrit scholar and theatre person Kamlesh Dutt Tripathi, American theatre scholar Kathryn Hansen, noted Bangladesh dramatist Sayeed Ahmed.
Lecture - demonstration on Theatre Music, specially the music of Parsi, Gujrati, and Marathi Theatre, prevalent during the first half of 20th century, by Narendra Kamal Shrimali.
Interaction with Japanese and Indian dancers, theatre practitioners, scholars and critics in a two day event in collaboration with Japan Foundation, Delhi.
A day long event focused on Jagdish Chandra Mathur in collaboration with NSD.
Screening of Documentory film on Sombu Mitra - The Honest Theatre: A Quest in collaboration with Lalit Kala Akademi.
A four day Asian seminar cum workshop on documenting theatre with the theatre and documentation experts from Japan, Singapore, Philippines and Thailand besides India with assistance from Japan Foundation Asia Centre.
To emphasize the new Hindi stage music a programme was presented on theatre and traditional music by B. V. Karanth, Mohan Upreti and Ram Dayal Sharma through their groups.
Paraspar [see...].
Nemichandra Jain Memorial Lectures

---
In memory of Shri. Nemichandra Jain, founder chairman of Natarang Pratishthan, Nemi Nedhi and Natarang Pratishthan together organise annual memorial lecture/dialogue by leading cultural thinkers and practitioner.
2013 : Anupam Mishra : Duniya Ka Khela
2012 : Kedarnath Singh : Kavita ka Janantik
2011 : Dipankar Gupta : Metaphors of Culture
2010 : Govind Deshpande : Theatre in Times of Klesha
2009 : Prabhash Joshi : Ek Aur Hind Swaraj
2008 : Kumar Shahni : Creative Uncertainties: An Interdisciplinary Exploration
2007 : Dialogue between Mahesh Elkunchwar and Maya Rao.
2006 : Krishna Kumar : Bhasha Ki Sanjivani
2005 : Mukund Lath : Hamari Aadhunikata
Exhibitions and Book Releases

---
Exhibition of photographs, press clippings and other material on Actor and Acting and specially on Uttara Baokar and Manohar Singh. The exhibition was inaugurated by renowned theatre director Habib Tanvir at the Exhibition Hall of Little Theatre Group which was on for ten days.
Mounting of a painting exhibition with works of 40 eminent artists including Raza, Akbar Padamsee, Ram Kumar, K. G. Subrahmanyam, Manjit Bawa, Ghulam Mohammad Sheikh, Neelima Sheikh, Gogi Pal, Jogen Chowdhury and others as a fund raising drive.
Rang Samvaad [see...] Exhibitions of Zohra Segal, Raj Bisaria, Vijaya Mehta, Satyadev Dubey, Rajinder Nath, Bansi Kaul, Hallo Bhaiya, Salima Raza, Maya Rao, Mahesh Elcunchwar, Nand Kishore Acharya.
Poorva[see...] Photo exhibition of women theatre persons, poster exhibition of women directors.
Exhibition of women painters at the time of Poorva at National Gallery of Modern Art.
NCJ Memorial Lecture : Mounting of exhibitions on Nemichandra and the speaker.
Release of books by and on Nemichandra Jain
Release of 50th special issue of Natarang by eminent theatre person Sombhu Mitra. The function was chaired by noted journalist Sham Lal. Other speakers from different fields were Mrinal Pande, Vishnu Prabhakar, Mohan Maharshi and Kedarnath Singh.
Release of three books of Ashok Vajpeyi by painter J. Swaminathan, dancer Birju Maharaj and Habib Tanvir from theatre. The programme was chaired by Krishna Sobti and other speakers were Kunwar Narain and Namwar Singh.
Dialogues

---
Conversation with the 96 years old noted actor-singer and doyen of Parsi Theatre, Master Fida Hussain.
Rang Parisamvaad
A day-long dialogue with three young directors - Feisal Alkazi, Anamika Haksar and Arvind Gaur including an exhibition of their work and a full length play Final Solutions presented by Asmita, directed by Arvind Gaur.
Rang Samvaad, exclusive dialogues with -

Neelam Mansingh Chowdhry and B. Jayashree (2010)
Zohra Segal and Raj Bisaria (2009)
Vijaya Mehta and Satyadev Dubey (2008)
Rajinder Nath, Nandkishore Acharya and Salima Raza (2006/07)
Harikrishna Arora (Hallo Bhaiya), Bansi Kaul and Mahesh Elcunchawar (2004/05).
Play and Poetry Readings

---
Shamsher Ki Awaz
A dramatic reading of poems of noted Hindi poet Shamsher Bahadur Singh by eminent actors, directed by B. V. Karanth.
Play readings by the noted author and public figure Mrinal Pande, Hindi playwright Rameshwar Prem, eminent Hindi writer Krishna Baldev Vaid and renowned theatre director Habib Tanvir of their plays.
Natya Paath
Three day festival of dramatic play readings by theatre groups of plays selected from the NP archive collection in presence of the playwrights.
Poorva Theatre Festival

---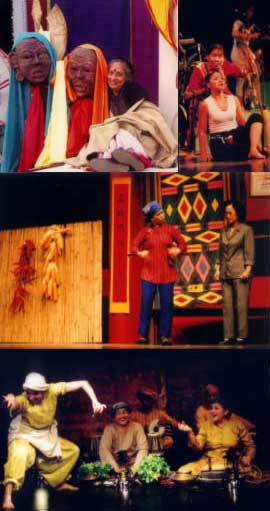 One of the Pratishthan's most successful international collaborations was in January 2003 when it organised Poorva, the first ever festival of Asian women directors. Participants from Asian countries and India brought together plays, stimulating debate and their concerns and issues on a common platform, to study the similarities in the works, literature, or environs in which they operate. International observers also participated in the deliberations. The theatre festival was held in New Delhi, but travelled to select parts of India for special performances.
This was the first time that a festival of women directors, or of Asian theatre, was organised on such a vast scale. In collaboration with the National School of Drama, the Indian Council for Cultural Research, the and the Government of India's Women & Child Welfare Department, the Pratishthan managed to stage a record 15 Indian and 5 Asian plays. Participants came from different parts of the world and included 120 delegates and observers from overseas alone. One of its major achievements was the focus it drew on women directors, their attempt to create a contemporary language in theatre from their traditional roots, and the attempt to understand each others methodologies, and encourage networking on a sustainable basis among themselves. It provided an opportunity not just for those actively involved with the stage, but also audiences, to gain a perspective about Indian/Asian theatre, and how it has evolved in different conditions, regimes and parts of the continent.
An exciting part of the exercise was a four day seminar that concluded the theatre festival. This concentrated on the views of the women directors, of their artistes and other team players, and included debates with an audience from different parts of the Asian continent, as well as international observers.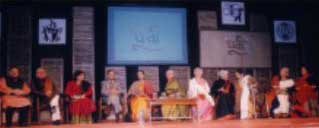 It is now hoped that Poorva will take shape as an event, either in India or in different Asian countries, and Natarang Pratishthan hopes to continue its engagement in this vital field.

B. V. KARANTH

---
"He was anarchic yet creative – demanding of himself & others. The sheer range of his work is staggering from classical both Indian and western – to the contemporary with a distinct feel. His production Macbeth as 'Varnam Vana' though controversial, is a land mark for the basic questions it throws up".
Personal Tributes to B. V. Karanth – Kirti Jain
Business Standard (8 Sept 2002)
---
"B. V. Karanth stood for many things in his illustrious career. The supremacy of the actor for one. And the need to come up with viable children's theatre for another."
"Karanth was probably the only theatre personality whose audience, admirers and students are found in almost all the Indian languages".
An actor director all the way
The Hindu (13 Sept 2002)
---
"Talent, imagination staged success for Rangkarmi."
Renuka Narayan
Indian Express (2 Sept 2002)
---
"Mr Karanth was the doyen of Indian Theatre whose rich repertoire included plays, films and music of extraordinary depth. He also contributed to the world of Arts as an able administrator of different cultural institutions."
Former Prime Minister A. B. Vapayee's condolence message for B. V. Karanth
H.T.C., New Delhi (3 Sept 2002)